Dear Emily,
I just bought a new phone and learned about geocaching!  I went and logged a cache and my log was deleted!!! The cache owner said I hadn't met the requirements for the cache!  I found it, so why can't I log the cache?
Sincerely,
Ringy Dingy
_____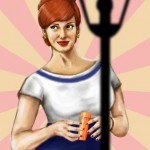 Dear Ringy,
You've fallen into a trap many new smartphone cachers fall into by not recognizing that there are different kinds of geocaches. You most likely have found a "Mystery or Puzzle cache" type which was a "Challenge Cache".
So many times a veteran cacher will put out something called a "Challenge Cache" to get other cachers to try new things.  While these have other requirements that are usually placed like a traditional cache.  One of the more famous Challenges in Indiana is the Indiana Epic 92 County Challenge in which you must prove that you have found once cache in each of Indiana's 92 Counties.  Another would be the Indiana DeLorme Challenge (there's one for each state) where you need to find a cache on each page of the DeLorme map for that state.  These are fun ways to challenge yourself and also include challenges for consecutive days caching, and thousands of other ways to challenge you.
I would suggest, if you are a new cacher and using a smartphone, start by following this rule of thumb- read the cache description before you go searching.  Not only will it give you some great information, but most special caches have something in the description alerting you to the nature of the cache like "This cache is at the posted coordinates."  That means there's something not quite normal about the geocache.
The other thing to simplify your early caching would be turn off your ability to see all the caches around you and just stick to traditional caches.  On the app under the app "Settings" you should see Search Filter and it defaults to "Show All" just change it to "Traditional Only" until you're comfortable with how caching works and maybe even attended an event to learn from other cachers.  As you learn more about the various kinds of caches and how they are displayed on your phone you can then try out each type of geocache each is special and fun.
Emily Lamp-Post
Caching Etiquette Columnist
Got questions about caching etiquette
or comments on my column?
Email me at EmilyLampPost@gmail.com.