Thanks again to W.o.W. for writing this up- I was promised that no vampires (even the sparkly kind) were harmed during the writing of this article.
I have to admit this is my favorite Indiana event of the year. I was told this was the fifth consecutive year for the event which left us arguing over how many times we have attended. For accuracy sack (not to prove anyone wrong) I looked it up and we have attended for 4 years running.
The 5th Annual Geocaching with Abe weekend boasted six separate events so a person could really do whatever they like most. We personally only made it to 3 of the 6 events. Basically we got to flash, cache and clean but others got to enjoy weenie roasting Friday night thanks to Dr. Who and K-9, hanging at the campfire with Daggy and Deermark on Saturday night and breakfast Sunday morning courtesy of the Friends of Lincoln State Park.
We truly love the creativity shown by Ginsu Macloed & Duct Tape Baroness each year for the Abe Lincoln Flash Mob. They always come up with really neat logs to match the great themes they pick. This year was all about Abe Lincoln the Vampire Hunter with an awesome movie poster to sign and vampire fangs for everyone. Baby Wright was proud to score a vampire lego keychain along with some other lego characters when my number was called for a door prize. We now feel obligated to watch the movie despite the bad reviews.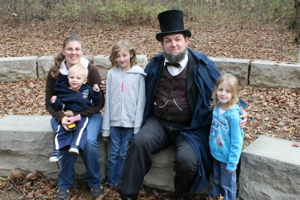 On to the main event! Geocaching with Abe 2012 is such a great event because of all the history and hands on activities incorporated into the search. This year there were 14 blue cards hidden around Lincoln State Park and local historical spots. The goal was to find all 14 cards and obtain a fact. When all 14 facts were filled in you returned to shelter by 3 p.m. and submitted your sheet for a chance to win a door prize (and of course our name was drawn first). Everyone got a chance to talk with the great Abe Lincoln, row a boat with one oar onto the lake to capture some ducks, use a schnitzebank to make a round wooden peg, shoot a bow and arrow, and make butter. Our girls really liked making the butter! We also got to meet the newest Indiana reviewer, Hoosier Reviewer, who was kind enough to host the CITO event that started immediately after the prize drawing.
Lincoln State Park is well cared for and overall very clean park. After Saturday's CITO event it is even cleaner! We love being about to give back to the park by taking some time to pick up trash. Many thanks to all the weekend hosts and a big shout out to Lincoln State Park for hosting the main event. If every Indiana State Park were as geocaching friendly as Lincoln we would not be facing the loss of so many great caches.